Call of Duty Mobile, one of the most popular games currently, has taken many of its features from the PC and console versions of Call of Duty—one of them being the Gunsmith feature. This COD Mobile feature allows players to make a custom loadout for personalized guns. It further means that players can tailor any gun to their liking and playing style.
Customized SMGs for short and long-range fights
In this COD Mobile custom loadout guide, we've taken a few select SMGs that can be modified into various forms according to the need and playstyle. So without further ado, let's get into it.
1. RUS-79U custom loadout
For close-range:
The "RUS-79U" is a near-perfect SMG in its raw form, with good mobility and accuracy. However, with certain attachments, this gun can be a beast in close range.
| | |
| --- | --- |
| Barrel | MIP Light Barrel (Short) |
| Stock | No Stock |
| Underbarrel | Strike Foregrip |
| Ammunition | 38 Round Fast Reload |
| Rear Grip | Stippled Grip Tape |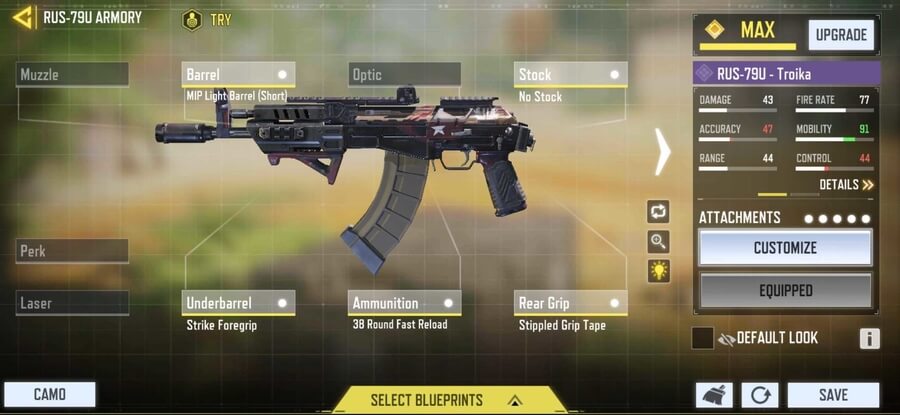 For medium-to-long range:
While RUS-79U shreds enemies in close range, this gun is also perfect for long ranges. The attachments to have an AR-like experience with better stability and accuracy are listed below.
| | |
| --- | --- |
| Muzzle | RTC Light Muzzle Brake |
| Barrel | OWC Marksman |
| Stock | MIP Strike Stock |
| Underbarrel | Ranger Foregrip |
| Rear Grip | Rubberized Grip Tape |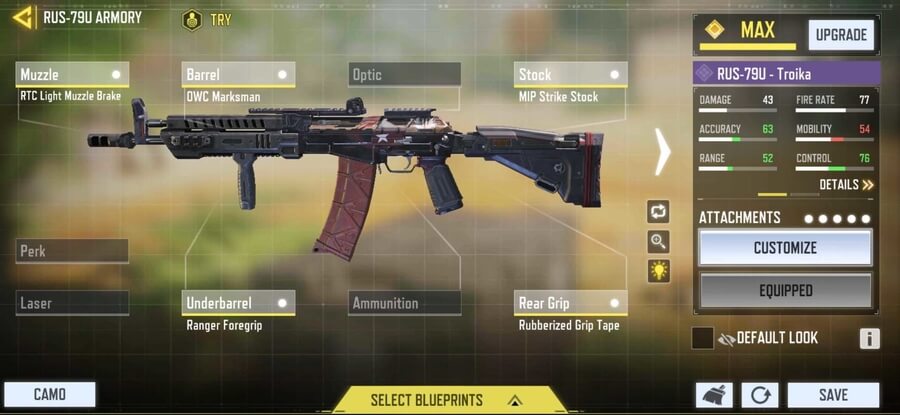 2 .QQ9 custom loadout
For close-range:
This beast of an SMG is a killing machine when it comes to close-range. On the other hand, use these attachments to make it a bit more lethal and increase its mobility.
| | |
| --- | --- |
| Muzzle | RTC Light Muzzle Brake |
| Barrel | MIP Tactical Barrel |
| Stock | No Stock |
| Ammunition | Fast Reload |
| Rear Grip | Stippled Grip Tape |