Apart from win32 and UWP, Microsoft has been working hard to make progressive web apps (PWA) a common sight on Windows 10. To this end, the company is working on some new features for Windows 10 PWAs that will bring them closer to the native app experience.
New Features For Windows 10 PWA
As you know, a Windows 10 PWA runs inside a window powered by Microsoft Edge in the background. The new stuff Microsoft is working is allowing developers to change the appearance of the title bar of a PWA on Windows 10.
In addition, it's working on a feature called Windows Controls Overlay which will allow devs to add a custom search bar, navigation buttons, and a logo as well.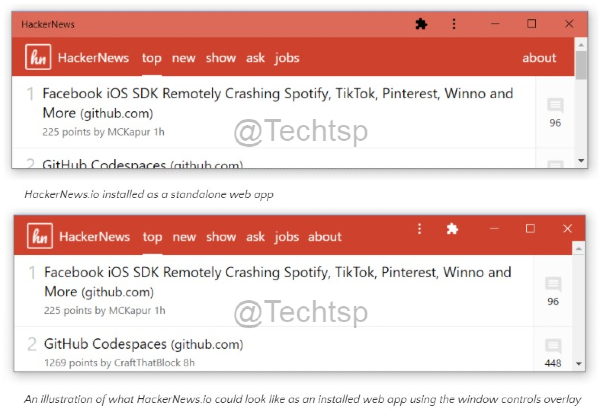 The information comes from a technical document from Microsoft Edge engineer Amanda Baker, which was obtained by Techtsp.
Currently, a PWA app on Windows 10 allows the users to minimize/maximize, change zoom levels, cast it to Chromecast, etc. among various options. The app can also be pinned to the taskbar and uninstalled from the Settings app like a regular Windows app.
The new features will arrive on other operating systems as well where Edge is available and the window control options offered will depend on the host operating system.